Get lyrics on your iphone or Android phone with the karnatik app!
Famous Carnatic Composers - NS
---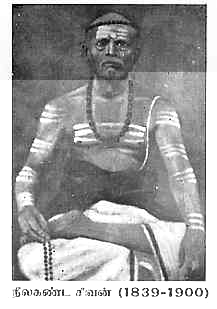 Neelakaanta Shivan - (1839-1900) Sangita Kalanidhis Musiri Subramania Ayyar and Semmangudi Dr.R.Srinivasa Ayyar chose the best of the pieces of Nilakanta Sivan:
'Enraikku Siva Krupai Varumo' - Mukhari
'Ehaparam tharum perumal' - Khamas
'Navasiddhi petralum' - Karaharapriya
for their disc recordings decades back and they could not have chosen better songs for the excellence of composition, sublimity of the content and message, marvellous scope for raga elaboration and spiritual appeal to the intellectual and the lay public. The grandeur of conception, the inspired divine ecstacy revealed in them, the mastery in the art of composition and the felicity of expression have rendered the songs of Nilakanta Sivan highly popular. 'Ananda nadanamaduvar' - (Poorvikalyani), 'Sambo Mahadeva' - (Bhoopalam), etc. are the envy of composers. About 1500 verses in 150 padigams mainly in Khamas, Kambhoji, Mukhari and Surati are all to guide the people to spiritual revelation and Divine presence. He conveys the message of the seers of India that 'true knowledge, pure devotion, absolute surrender and strict adherence to the spiritual, religious, moral values make life richer.' His output and outpourings were colossal. he assumed the name of 'Nilakanta Dasan' after the name of the Deity of Padmanabhapuram.
Born at Padmanabhapuram in Kanyakumari district, called 'Subramanya' in younger days, Nilakanta Sivan was a precocious child whose sharp intellect and composing talents were noticeable early. he led bhajan ghoshtis (parties) and for fifteen years was a village magistrate. he resigned when he was asked to cook up evidence in a case. His agonising reaction is reflected in the song 'Ennavidam Pizhaipom' - (Mukhari), wherin he laments:
'Days of fences guarding crops had gone,
Even days of fences eating the crops had vanished.
Now the fence has started eating even the earth.
What would happen henceforth?
Time has entered on evil days.
He had no practical training in music. Mysticism and erudition innate in him probably got released after his contacts with Kodaganallur Sundaraswamigal. He was giving musical discourses also.
The rulers of Travancore and Cochin and the Rajahs of Ramnad and Pudukottai honoured him. like Muthuswami Dikshitar, he is credited with bringing rains by invoking God. he anticipated his death and breathed his last at Trivandrum amidst bhajans. Sangita Kalanidhi Papanasam Sivan was his disciple and no wonder the two Sivans have been beacon-lights in Carnatic music with their immortal compositions in Tamil which have been the delight of the musician and the music-lover.
Mudra:
Compositions:

---
Contact us