Get lyrics on your iphone or Android phone with the karnatik app!
Famous Carnatic Composers - RVS
---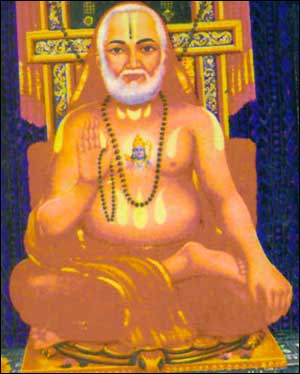 Photo courtesy of Nandhi.com.

Raghavendra Swamy - An advocate of the Madva philosophy, he was considered a reincarnation of Prahlada. He was a scholar of many arts, including music, but in fact his great-grandfather, Krishnabhatta, tutored Krishnadevaraya (King of Vijaynagar) in the veena. He was born VenkaTanatha (after Lord Venkateshwara) in 1595 in Kaveripattanam, Tamil Nadu to Thimmanna Bhatta, a skilled musician, and Gopikamba. Once, when his father was praying, Venkatanatha asked how a letter as small as Om could explain God. His father was thrilled that his son understood that God couldn't be explained by a simple letter. His father died when he was young, but Venkatanatha considered Lord Narayana and Gayathri as his parents. He became adept at the Veena, earning the name Veena Venkata Bhatt. He married Saraswati, as arranged by his brother Gururajacharya.
Mudra:
Compositions:

---
Contact us