Get lyrics on your iphone or Android phone with the karnatik app!
Famous Carnatic Composers - KD
---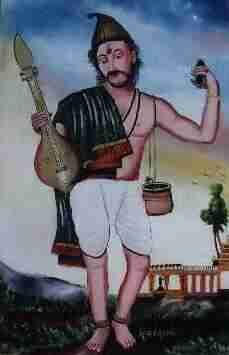 Photo courtesy of Bhajana Sampradaya.
Click here for more information.
Kanakadaasa - He was born in 1508 and died in 1606. He hailed from Kaginele, in Dharwad district in north KarnaaTakaa. Kanaka Daasa was a devotee of Lord Vishnu and was highly attached to a beautiful Vishnu temple in Kaginele. One of the great Bhagavatha Maha Purushas Karnataka gave,Thimmappa , son of Birappa, a poligar chief of Kuruba community came to be called 'Kanaka Nayaka' as he found a treasure-trove of gold. He was initiated by Vyasaraya. He lived at Tirupathi in his last days. He has composed Hari Bhakti Sara, Nala Charitra, Mohana Tarangini, Nara Simhastava, and devotional songs in Kannada like 'Krishna Nee Begane' (Yaman) His devotional songs and devoted work elevated the backward communities. His signatures were 'Kagineli Kesava', 'Velapuri Kesava', etc.
Mudras: udupi, AadikEshavaa, Kaaginele AadikEshavaa, Kagineli Kesava, Velapuri Kesava
Compositions:

---
Contact us