Get lyrics on your iphone or Android phone with the karnatik app!
Famous Carnatic Composers - KSK
---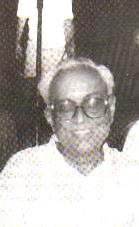 Photo courtesy of Carnatica.

KS Krishnamurti - Born in December 1921, he was known as KSK. He trained under G V Narayanaswamy Iyer, father of GNB, and then with Tiger Varadachari. He was known both as a composer and a teacher. He died on May 16, 1999.
Mudra:
Compositions:

---
Contact us